Lauren has sadly sold Cass on. He has gone to a professional showjumper who will hopefully take him to dizzy heights in his jumping career.

When we bought him him was a real baby and Lauren worked hard on all the groundwork and initial jumping in producing him. As he grew  and matured he became more and more powerful and with such  an enormous jump Lauren was finding him just too big a ride for her.  We shall monitor his progress closely hoping he does well and  having the satisfaction that if he does, we started him
Cass Sept 12
 *************************************************************************************
CHIP
 Chip has now been sold to a lovely new home, good luck Chippy!
A  truly outstanding pony!  13.2hh 14yrs very handsome bay gelding.
Really has been there, done that and got the T shirt!
Won numerous Working Hunters, including Chiltern & Thames championship. Competed Royal Windsor. Winner Pony Club Pony Classes.  Showjumping including Pony of the Year Show where he won the 11year and under Style & Performance Championship.  Competed up to Advance Medium in BD. Fluent in all lateral work, flying changes, Spanish walk. Brilliant at mounted games too. There is nothing this pony can't do! Has won hundreds of rosettes, cups/ trophies sashes and rugs.
************************************************************************************************
Waltons Top Flight and Lauren Fois
'John Boy' has sadly been sold. Lauren has had a wonderful few years producing him  but let him go to finance buying a couple of youngsters hoping to follow in his footsteps. We wish his new owner lots of success and will be watching his progress closely. In fact within a few weeks he has already been placed a Grand Prix in France! Such a star.
Latest news from John Boy: In August he competed in The Global Tour in Holland coming 7th in the Grand Prix. Well done JB and Leonora!
Walton's Top Flight, aka 'John Boy' is a 16.1hh KWPN Dutch bred gelding. He was bought by us as a 4 year old with a view to show jumping, having Oklund/Concorde/ QuickStar/Burggraaf in his bloodlines. He was very green when he arrived, but as with all our horses he has been doing flat work along the Classical lines which has gradually built him up. This has given him a really good grounding to move on with his jumping, and has helped immensely with balance and turns.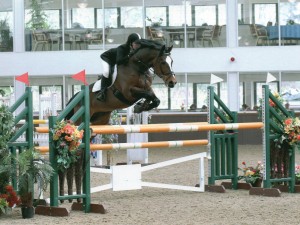 Lauren and John Boy Addington 2010. Photo Imageprint
He qualified for the second round newcomers this year and got through to the  http://www.scopefestival.co.uk/ by coming 5th out of 107 competitors at Addington. This is as close to the Horse of the Year Show as Lauren  got but sadly didnt make it.
ACHIEVEMENTS INCLUDE
4th Bronze Tour Championship, Hartpury
7th  1.30 mtre  Bronze Tour qualifier, Hartpury Showjumping Spectacular
2nd Blue Riband Prelim at Scope qualifying for Championship
2nd Foxhunter Addington. Qualified to 2nd round Foxhunter
3rd Addington Summer Classic Foxhunter
5th Newcomers 2nd rounds, qualifing for scope Welsh Masters
1st  Foxhunter  Addington
2nd Sport Horse Classic Blue Riband Championship Qualifier/Foxhunter   at Addington. Qualifying for Scope
5th  1.15 Smarter Members Cup. Qualifying for Scope Championships
2nd Amateur Championship Qualifier Addington
4th in 1.15m Members Cup qualifying for Scope Championship
1st in British Novice Regional Finals
8th in British Novice Final Championship at Scope
3rd in Discovery Regional Finals
10 Double Clears in Newcomers, including 3 wins.
*********************************************************************
Finn Again and Sophie Fois
Sophie on Finn Again
Update…. Finn is now at an International Showjumping yard in Florida. Lucky Boy!
Finn has now sadly been sold to a super new home. Sophie is getting updates from his new owner and he seems very happy!   We just cant bear to take him off our web site just yet
 Finn is a 10 year old Irish Sports Horse standing 15.2hh. We got him at 5 years old and he was ridden for the first two years by Lauren before Sophie took over the reins. He has been a great first horse for both girls and they have enjoyed Pony Club, cross country, dressage and show jumping with him, the latter being his forte.  After a hugely successful 2008 Sophie and Finn had a quiet 2009 owing to school studies, but have been out again this year. They  qualifed for the second round Amateur Championships first time out and have come home with rosettes from evey competition since, proving they have not lost their touch.
Finn X country
Achievements
1st BSJA Central Region 1m.
5th 1.10m Amateur Qualifier
1st Patchetts 1m Amateur Qualifier
6th 105m Open speed class – Patchetts
Qualified Amateur Championships 1m at Merrist Wood
2 x 2nd and 6th Small Opens at Addington
1st Discovery, Wellington
1st Regional Final Junior Academy, Quainton Stud
2nd Small Open, Quainton Stud
1st Newcomers, Addington
2nd Newcomers, Henley
1st x 4 Amateur Qualifiers
1st Amateur 2nd round, Crofton Manor
3rd Arena UK Amateur Championships
************************************************************************************************************
VENTO FRESCO            SOLD
Stunning Lusitano Gelding, 8yrs. 16.2hh. Well schooled, super floating paces with bags of presence. Winner purebred gelding class and overall % Trophy for the Dressage at 2009 Lusitano Breed Show. Winning at Elementary unaffiliated dressage, now reg BD. Potential to go far. Reg BSJA jumping double clear Newcomers.
(Novilheiro
bloodlines). Delightful temperament, extremely comfortable to ride. Been with current owner since a three year old and only sadly for sale due to ill health.