Spring Pascal
ridden by Samantha Thurman-Baker
Spring Pascal is by the Hanoverian stallion, Pascal, out of a Cleveland Bay mare, Springtime Girl, bred at the Northcliff Stud in Wales, an unusual combination which raises eyebrows. Most top dressage horses are bred from foreign bloodlines. Pascal was bought as a just broken five year-old. He was immature and sensitive as a youngster and had been passed over for the PSI sales. The family took a chance on him and had no idea that the combination would prove to be so good. He is Samantha's first step up to a horse from ponies, and it was a chance of a lifetime that with limited funds, they managed to find such a horse.
With three years of sympathetic training and Samantha's dedication they have a Superstar combination. It is extremely unusual for a Junior Rider to take a young horse to such a high level. Most people of her age have an experienced serious school master to learn from, yet Samantha and Pascal are training and progressing together, with their eyes fixed firmly on a Grand Prix partnership and even Olympic potential. After achieving 4 A*'s and 6 A's at GCSE Samantha attended The Henley College where she studied Biology, Chemistry and Ancient History. She feels that a rounded education will enhance her future as a professional horsewoman.
Samantha is in the British Prime Squad, one of the top 5 junior riders in the country and is on the regional foundation squad.
See http://horsehero.com/69412  for more on Samantha and Pascal
Samantha is very grateful to the following people who have been so generous in helping her on her International pathway:                            
Ian  Woodford and Maddie White,  Guy Oppehiem,  the Pringle family, Fred Wheeler, Suzie Abecassis and the Dressage U21's . Also thank you to Andrew Speller for Pascal's farriery costs over the past two years.
Also thanks to Naf for supplying Pascal with products to keep him in tip top condition.
**************************************
Samantha is  looking for sponsorship to help with the cost of training and getting to international competitions.
ACHIEVEMENTS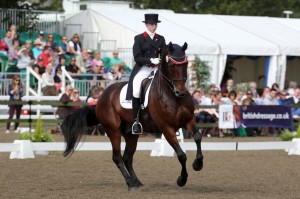 9th Advanced Medium Open, National Championships – Stoneleigh
Winner of Junior and Young rider Championships at Sheepgate.
1st Advanced Medium Open  Addington Regionals Championships- 70% Qualified for Nationals.
Junior European Championships, Germany. 68% in all three classes, best of British Team coming 12th.
Addington Premier League:   2nd PSG  69%        5th Inter I 65%           
1st PSG 69.86% and  4th in the Inter I on 66.97%
Winner Small Tour
*********************
1st Junior Individual test, Premier League on 70.39%
Winner PSG Premier League Keysoe 70.56%
Winner  Petplan Prix St Georges Championships at The Nationals
Winner Intermediaire I – Addington
Winner Advanced Medium Pick Your Own
Winner Intermediaire I – Addington
Addington High Profile
 1st Junior team test
1st Junior Individual test 
2009  
British Junior Prime Squad – Selection Trials for the Europeans. 
U21's winter advanced 100 and Junior FEI champion
Petplan Advanced Medium National Champion
Represented GB at the Addington International
Winner of 3 major classes at the Sheepgate Premier League
Winner of team selections at Hickstead – Junior Team Test
U21's summer Junior FEI and Young Rider FEI champion
Qualified for the Medium open National championships
Under 25s Sheepgate Dressage Championships
– 1st in Medium championship
– 2nd in Junior FEI championship
– 2nd in Young Rider FEI championship
Qualified for Petplan PSG National Championships
2008
Friendly International Under 21s Medium Champion – Wicklow, Ireland
Member of the Winning Under 21s Junior Team – Wicklow, Ireland
Winner of the Medium Under 21s Summer Championship
Winner Medium / Advanced Medium Freestyle to Music with 83%
Runner-Up Medium Summer Regional Championships – Addington British National Dressage Championships Stoneleigh:
– 4th Medium Championships – Winner of Amateur Owner/Rider Award
Under 25s Sheepgate Dressage Championships:
– 1st in Medium 61
– 3rd in Elementary Championship
– 4th in Medium Championship
– Junior FEI Championship
Qualified for the Medium Open Regional Championships
– 1st in Medium BCA
– 1st in Medium Addington Manor
Winner of the Pet Plan Advanced Medium Regional Championship
– Qualified for the National Winter Championships – Hartpury April 2009
2007
Under 21s Summer Novice Champion – Addington
National Junior Derby winners – Sheepgate U25s
Under 21s Winter Medium Champion – Addington